Uncrewed Systems Technology (UST) magazine focuses entirely on the innovative engineering that's successfully pushing boundaries on land, at sea, in flight and even through the universe.
And so,  we're proud that Sensoriis' ARC-Landing radar technology has been featured in the latest edition of the magazine, published on the 15th of August.
Click here to view full article.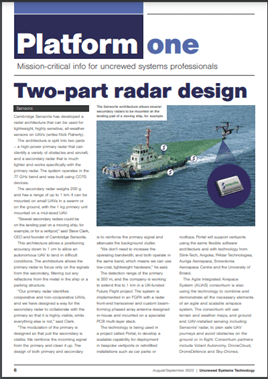 Sensoriis Micro radar on moving vehicles or vessels can support relative positioning during the approach and landing phases of drone flight.
Our ARC60 micro radar provides a localisation capability based on direct radar range measurement that is independent of satellites and invulnerable to jamming mechanisms. Radar is also unaffected by poor visibility, lighting, and bad weather, unlike camera-based localisation.
The ARC-Landing includes a Primary micro radar installed onto the UAV, which reports the location of other ARCs on or around the landing zone, whilst ignoring radar reflections from background infrastructure.  This is ground-breaking technology that allows for the safe, autonomous, and cost-effective landing of a drone to complete potentially mission-critical operations.
This capability ideally suits military logistics, enabling a last mile resupply drone to find and land on a resupply point or hub i.e., the vessel, which could also have moved during the mission.  Another example could be of a drone returning to a landing platform on a ship with centimetric accuracy after having performed inspection of wind turbines on an offshore windfarm, whilst also ensuring all assets have been kept safe in flight using our edge-cutting radar.
The UST magazine is unique – the first ever publication to focus entirely on providing independent coverage of the engineering at the heart of uncrewed vehicles.  It is also an invaluable resource of actionable intelligence for engineers whilst additionally providing a targeted promotional platform for those with products and services of interest to them. Our belief is that their media team has helped put our innovative radar technology within reach of those that need it most.
A word of thanks to all at UST for making this featured article possible.
UST is a bi-monthly publication with a readership of 18,000 with 6,000 individually mailed copies as their core circulation.  Written by engineers, for engineers.
For more information about Uncrewed Systems Technology, please visit their website at https://www.ust-media.com