Cambridge Sensoriis are delighted to have been long listed for cofinitive's #21toWatch awards for 2022/23.  The awards recognise world-class science and technology entrepreneurs, start-ups, and ground-breaking innovation from across Cambridge and the East of England and will be supported once again this year by the Cambridge Independent newspaper.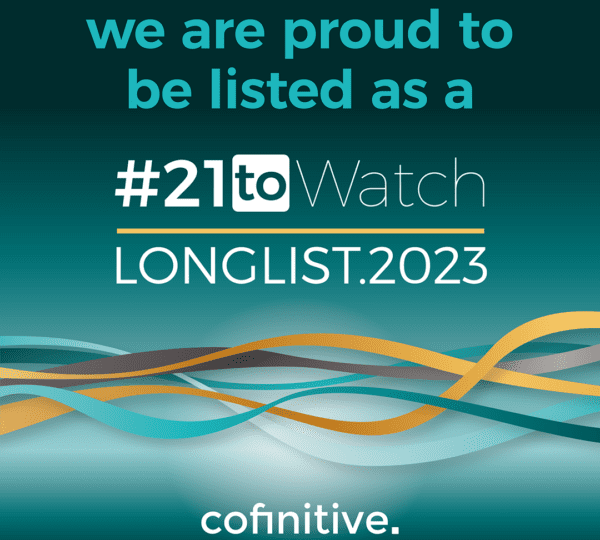 Now in its fifth year, the #21toWatch initiative has showcased more than 1,000 people and companies. Of those that made the Top21, 47 per cent received funding since appearing on the list.  Many on their list have gone on to achieve great things, including enhanced promotions, additional investment, new clients, and a variety of other opportunities.
With such diversity and ingenuity amongst the #21toWatch cohort, the attributes each submission is assessed on are Innovation, Challenge, Influence, Viability and Memorability.
Founder and CEO of Sensoriis, Dr Steve Clark, was pleased to hear the news of our nomination and commented, 'We are a thrilled that our radar technology company has been earmarked and placed amongst such good company on the #21towatch list.  We are on an amazing journey of ensuring that Sensoriis is synonymous with the phrase, world-class sensing for the drone and autonomous revolution and we appreciate this recognition and support.'
Faye Holland, director of cofinitive and instigator of #21toWatch, said: "We had already received over 100 submissions for the 2023 cohort, even before the nominations window had officially opened.   Feedback received after the 2022 Top21 announcement event recognised that it is a "fantastic forum supporting the regional entrepreneurship ecosystem".
"We are delighted that the majority of these are new to the campaign and have not been featured on previous lists.  cofinitive is all about fostering connections, and we look forward to showcasing these entrepreneurial innovators within our local ecosystem and beyond, contributing to their exciting onward journeys."
Faye added: "What I love most about #21toWatch is the genuine camaraderie that exists between start-ups and entrepreneurs within our famed ecosystem. Previous Top21 winners introduce their connections to the #21toWatch initiative and even those who are not eligible to be listed know about the campaign and spread the word."
According to Forbes, who featured an article on the #21toWatch programme earlier this year: "Correlation isn't causation, of course, but the figure suggests that a fair percentage of #21toWatch winners have commercial legs."
The nomination window for 2022/23 closes 13th January 2023, the shortlist is announced at the start of February, with the annual #21toWatch Top21 unveiled in a unique event on Thursday 2nd March 2023.  We are hoping that Sensoriis can be present on that awards evening but first and foremost we would like to thank all our investors, clients, partners and supporters who have brought us this far in such a short time and long may the success continue.
You can find out more about the programme at www.cofinitive.com/21toWatch and by following #21toWatch on social media.