We're proud to have been chosen to take part in a pioneering project investigating the use of radar to detect concealed weapons and bombs.
Led by Innovate UK, the UK government's research and innovation agency, the work could help save some of the thousands of lives lost every year in terrorist attacks around the world.
Our research will examine using small, lightweight, and highly portable radar to screen hundreds of people as they move through transport hubs.
Called Free-flow and Rapid Standoff security-screening for All Weapons (FORSAW), it will use the same radar technology we have developed for autonomous drones and vehicles.
The project will focus on railway stations in India, where thousands of people can pass through termini in minutes.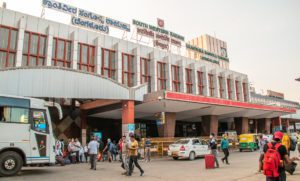 Previous attempts to use radar to screen for concealed threats such as weapons and bombs have failed, as the technology has been too large, complex and expensive.
But our lightweight and portable system, which can still detect threats at ranges of 50 metres or more, can solve those problems.
It's also capable of screening hundreds of passengers every minute, which is critical to ensuring there are no dangerous bottlenecks or frustrating hold ups at stations.
Radar is ideal for detecting and tracking individuals as they move, as its signals can easily pass-through layers of clothing whilst still detecting concealed objects.
It also reflects harmlessly off the body, and cannot gather revealing intimate imagery, allaying health and privacy concerns.
As well as having the potential to save countless lives, there is a huge market for an effective, affordable, and portable concealed threat detection system such as our radar offers.
The global security screening market is predicted to grow from $9.4Bn in 2021 to 13.6Bn by 2027, according to a study by Insight Partners.
Radar threat detection systems could be used at transport hubs, railway stations, stadiums and arenas, schools – particularly in the United States, which has suffered repeated school shootings – places of worship, hotels and conference centres.
Our aim is to produce a market ready threat detection product within 12 months.