AgiLe Integrated Airspace System (ALIAS) is a consortium of innovative small and medium sized enterprises (SMEs) collaborating to deliver and demonstrate all the necessary elements of an agile and scalable airspace system. The project will feature several increasingly complex flight trials and ultimately establish a flexible and resilient Uncrewed Traffic Management (UTM) system over the Channel Islands.
Volant Autonomy, a technology spinout from the University of Bath, is leading this nine-partner consortium that has been awarded a £3.7 million project to develop and integrate next generation aviation systems to improve island connectivity.
The UTM system will operate in collaboration with the local Air Traffic Management (ATM) system, managed by the Ports of Jersey authority who are part of the project's consortium, and who will also be working closely with Digital Jersey to access local knowledge and connections to on-island stakeholders.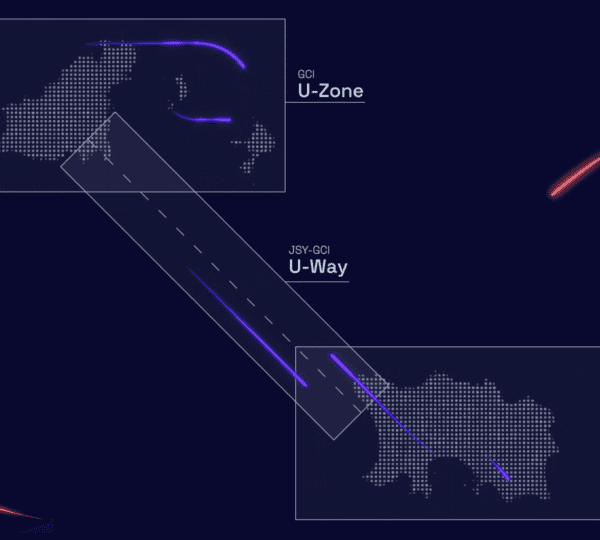 Ports of Jersey, Airport Direct Robin MacRae, said: "We, at Ports of Jersey, are very excited to be part of a consortium involving such cutting edge partners who are looking at such potentially game changing technology. Two of our core strategic business objectives are building connectivity and investing in Jersey's future, and so ALIAS is a perfect fit for us. This is combined with the ability to be able to work closely with Digital Jersey, a perfect example of local entities working together for the benefit of the Island."
The trials will involve multiple aircraft types ranging from a manned helicopter (simulating an EVA [Electric Vertical Aircraft] or Air Taxi) to small delivery Uncrewed Aerial System (UAS) aircraft with various levels of electronic conspicuity and DAA (detect & avoid) capability.
The project will work in collaboration with RTCA (Radio Technical Commission for Aeronautics) to evaluate the emerging regulatory framework concerning ACAS Xr (Airborne Collision Avoidance System [ACAS] for large rotor traffic) and sXu (ACAS for smaller UAS).
There are five core cross-cutting technologies that form the basis of the ALIAS airspace system:
Intelligent Detect and Avoid (DAA)
Secure Communications
Distributed Sensor Network
Scalable Uncrewed Traffic Management (UTM)
Aircraft Systems — both Uncrewed Aircraft Systems (UAS) and Advanced Aerial Mobility (AAM)
Sensoriis will provide RadarAwareTM suitable for installation onto the airborne platforms, along with interfaces into other flight systems and data recording systems.  Radar data will be captured during flight trials. Algorithms will be developed to detect potential obstacles most effectively to the UAS, both in flight but also on the ground pad during landing phases.
This will lead to the development of a resilient onboard DAA capability, for which there are market opportunities in the rapidly growing UAS logistics, surveillance, and transportation segments. Sense (and avoid) capability has been offered from camera-based systems, though these are limited to good weather and do not directly measure distance to an object.
Radar from other competitors have been designed for detecting flying objects but have not been designed at a specification and price point for wider market adoption.
Sensoriis predict that the great majority of UAS will require resilient onboard sensing to support obstacle avoidance, particularly unmanned systems but even those that are piloted (as a pilot support capability). Sensoriis is also providing ARC-LandingTM to help with the autonomous landing of a UAS at a landing zone on the ground in the case of an emergency landing.
The consortium partners include: Volant Autonomy, TEKTowr, Sky-Drones, Drone Defence, Ports of Jersey, Dronecloud, Skyports Drone Services, and ANGOKA.
Questions?
Want to know more about Project ALIAS? Please feel free to contact us at info@cambsensoriis.com